Proper Hanger
A suit is an investment that should be treated with great care. As such, simple wire and plastic coat hangers will not do for storage. These types of hangers were not designed for the weight and long-term well-being of a suit. A proper suit hanger will help maintain the shape of the jacket by keeping shoulders straight and aligned, while providing a space to hang the suit pants inside the jacket. This prevents sagging and wrinkles, as well as protecting against any awkward fabric stretching or bunching. We suggest considering a wood hanger with wide shoulders for best support. If you tend to remove your jacket during the day and sling it over a chair, you might also consider leaving a nice hanger at the office.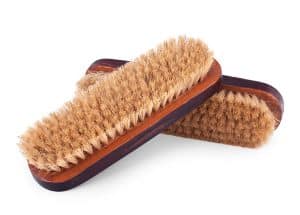 Suit Brush
A suit brush is a vital tool for prolonging the life of any suit. After each wear, be sure to thoroughly brush the suit fabric to remove leftover dust, dirt, skin, and other particles that may have gathered on the material throughout the day. These often unseen particles can be pressed into the fabric if not brushed away, eventually wearing down fibers and resulting in the deterioration of your suit. A lint roller can help with this task, but it's not an effective substitute for a good suit brush. It's important to ensure that you're using a proper suit brush to prevent straining the fabric. Avoid anything with overly coarse bristles that may damage the material. We advise using a brush made from animal hair for best results. Remember to ALWAYS brush in a downward motion to avoid damaging the suit material.
Fabric Suit Bag
While your suit may have come with a plastic or vinyl suit bag, we encourage you to consider a higher quality fabric suit bag. This may be more expensive, but you'll reap the reward through a longer lifespan for your suit. A nice fabric bag allows your suit to "breathe" more effectively by not clinging to the materials, as well as preventing wrinkles, dust, and moths. Storing your suit inside a fabric suit bag will also ward off any moisture that may have been trapped during use, but we suggest waiting a day after wearing before placing the suit inside the bag for storage. Lastly, make sure to give the suit (and bag) plenty of hanging space to allow air to reach it on all sides.
How often should I dry clean my suit?
We typically suggest dry cleaning a suit after you've worn it four to five times. This obviously depends upon your natural tendency to sweat, as well as whether you've encountered strong odors, such as smoke, seafood, garlic, or experienced a spill or stain. We suggest avoiding most DIY cleaning methods, so if there's ever a doubt in your mind as to whether it's time for dry cleaning, bring it by your trusted cleaners. Remember, a suit is an investment that's worth caring for properly.
If you're located in the Treasure Valley, Clothesline Cleaners has two locations to serve your dry cleaning needs. Our certified experts are capable of handling any cleaning scenario and we're ready to serve you. If you simply need an alteration, restoration, or preservation, we're happy to provide those services as well. Stop by and see us today!
A SUIT CAN MAKE A DIFFERENCE
We're accepting donations of new and slightly-used Men's Suit Items for our Men's Suit Drive throughout the month of November, so stop by any Clothesline Cleaners location to give today. All donations help to support the Boise Rescue Mission Ministries.