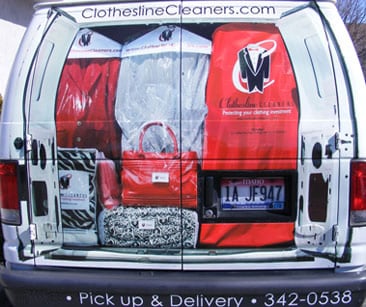 EasyCollect Pick-up and Delivery Service
At Clothesline Cleaners, we understand the demands of your busy schedule and the importance of a well-maintained wardrobe. That's why we are proud to offer EasyCollect, our exceptional pick-up and delivery service that simplifies your life and provides unparalleled convenience.
Say goodbye to the hassle of drop-offs and pick-ups, and let EasyCollect take care of the running around for you. 
Imagine coming home from a hectic day, only to realize that the clothes you intended to drop off at the cleaners are still sitting in your back seat. We've all been there, and it can be frustrating. With our EasyCollect pick-up and delivery service, those worries become a thing of the past. Simply sign up and let us handle the rest.
Here's what you can expect:
Quick and Easy: We know that time is of the essence, which is why our EasyCollect pick-up and delivery service is designed to be quick and effortless. No more rushing to drop off your garments or finding time to pick them up. We'll take care of everything, allowing you to focus on the more important things in your life.
Home or Office Delivery: Whether you prefer your dry cleaning and laundry to be delivered to your home or office, we've got you covered. Our professional team will promptly deliver your freshly cleaned items right to your doorstep, saving you valuable time and effort.
Safe and Secure: We prioritize the safety and security of your garments. Our dedicated team of professionals handles your clothing with the utmost care and attention, ensuring that they are returned to you in pristine condition.
Weekly Service: We understand that a prompt turnaround time is crucial for your convenience. That's why we offer EasyCollect pick-up and delivery service multiple days a week, allowing you to have your clothing cleaned and returned to you in a timely manner.
Door Hook Provided: As a valued EasyCollect pick-up and delivery customer, we provide you with a door hook for easy and secure garment collection. Simply hang your items on the hook outside your door, and we'll take care of the rest. It's that simple.
Save on Gas:By choosing our EasyCollect pick-up and delivery service, you not only save time and energy but also reduce your carbon footprint. With fewer trips to the cleaners, you contribute to a greener environment by saving gas and reducing emissions.
Don't let the demands of your schedule hinder the care your wardrobe deserves. Your wardrobe deserves the best, and we are here to provide it.