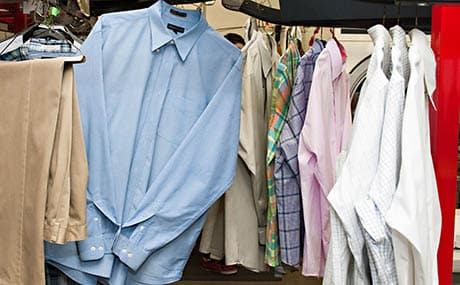 Clothesline Cleaners, the Boise area's premier executive shirt dry cleaner. Attention to detail is the key here. The foundation of any well-pressed suit is a crisp and clean shirt or blouse.
Clothesline Cleaners executive shirt and blouse dry cleaning process:
Inspected for stains
Marked with an inventory bar code
Cleaned, pressed, starched, and Inspected
Missing or broken buttons sewn on for free (if needed)
Clothesline Cleaners dry cleaning detergents offer superior cleaning results and our starch will never build up in your shirts. Clothesline Cleaners finishers operate equipment specifically designed to make the busy executive look his or her best. We even sew on missing or broken buttons for FREE.
From collars and cuffs, to the buttons in-between, we're Clothesline Cleaners.
Call us today to help you crisp your shirts or blouses.
Phone: (208) 342-0538