The age-old question: "How Often Should I Replace My Pillow?" has been baffling people for decades – and we've done our best to answer it for you.
As humans, we develop routines for cleaning and maintaining almost everything we use or encounter everyday. From our car to our skis to our smartphones, we regularly ensure that our favorite, most useful objects are in good working condition. This is not always the case with the comfy materials we snuggle into every night. In fact, it seems that some of us almost forget that we drool, cough, snot, and sweat on our pillows and comforters each and every night. Believe it or not, this results in some well-used and very dirty objects. But the question has confounded people for years: How often should I replace my pillows?
Over the last several years, the question of how often to replace pillows has been complicated by the appearance of a large number of synthetic pillow varieties. Whether it's memory foam, latex foam, synthetic fibers, or good ol' goose down, each pillow has a lifetime that depends on its use and material construction. While this seems complex, it is still possible to develop general guidelines for the wear and use of your pillows. We've outlined some of the figures below…
Memory Foam – 18 to 36 months
Latex Foam – 18 to 36 months
Goose Down – 12 to 24 months
Duck Down – 12 to 18 months
Turkey/Duck Feathers – 6 to 12 months
Synthetic Fill – 6 to 12 months
**There are many other options, but we've chosen to focus on the most widely-used materials. And remember, these are only general guidelines – not guaranteed rules of thumb.
Still wondering whether it's time for a change? There are a few simple ways to test whether your pillow has reached the end of its useable life. Just keep in mind that these questions may not apply to all foam-style pillows. First, ask yourself:
Is the fill inside my pillow lumpy? Does it look bumpy?
Do I have to bunch up or fluff my pillow to get the support I need?
If I fold my pillow in half, does it stay folded or regain its shape?
Do I suffer allergies? Or, wake up with a dry/sore throat or runny nose?
The correct answers should be pretty obvious, so if you find that your pillow is lumpy/bumpy, needs to be fluffed/bunched for support, fails to regain its shape when you fold it, and/or aggravates your allergies, you may be in need of a new pillow or two.
Replacing good pillows can be an incredibly expensive endeavor. That's not to mention the emotional devastation of having to part ways with your favorite pillow. But if it's more than six months old, your pillow is likely filled with dead skin cells, body oils, germs, and dust mites (just to name a few things).
But, there's good news!… PILLOW RENOVATION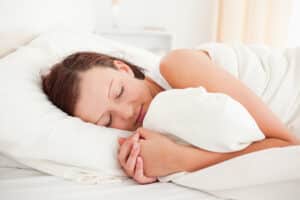 If your pillows fall into the down or feather category, it's very likely that our experts at Clothesline Cleaners can help. We offer full pillow cleaning and renovation to all our valued customers – and it offers excellent savings for keeping, washing, and refilling your old pillows. Using a unique pillow renovation process, we first remove the old ticking (fabric outer layer) and replace it with new father-proof, down-proof fabric. The feathers are removed from the interior of the pillow and blown into an amazing machine that agitates them to fluff them back up and remove all dirt and other grime. The feathers are then sanitized using ultraviolet light and additional feathers may be added to return your pillow to like-new condition. When this process is all done, your pillow is bagged and returned to you in ready-for-snoozing condition.
If you're interested in this process or have any questions for one of our experts, feel free to contact us today – or simply drop your pillows by any Clothesline Cleaners location for service.